"I'm very excited 'cause I remember when I first met Polina and I was like – Wow, I know what's coming – and it's here now! I knew this day. I knew this day would come."
Some people were born to be together, and it's clear that Polina and Miles are among those. So clear that even a child can understand it. The words in brackets were in fact pronounced by one of their wedding guests, an entertaining kid who grew up close to Miles.
This surely was a one-of-a-kind marriage celebration. For the couple and their loved ones, who proved to be sweet and fun. And for us, who for the first time had the chance to witness a destination wedding in Italy and tell its story through our film.
The same story we want to share with you, now.
Polina and Miles, a wedding that was meant to be
The first time we got to talk to Polina and Miles, we spent the same amount of time speaking of the wedding and of videogames – Crash Bandicoot especially. It's no surprise, considering that Miles has always been a gamer, who then turned into a presenter with a spice of comedy. He is a natural performer: the more we got to know him, the more this feeling was clear.
Polina is the soft and romantic side of the couple. She's a strong and determined woman, but with a gentle and kind soul. Her best friend, in her speech, described her as "the most generous person ever" and we bet it's true.
There couldn't be a better match than that of these two lovely and conspiratorial people, who met in England, moved to Sydney and decided to get married in Italy.
We were extremely happy to be chosen as their wedding videographers, and we couldn't wait to embark on such a meaningful adventure on July 13th, 2018.
Little did we know, in the beginning, about the unconventional celebration that was about to come. It was an extremely emotional day for them, yes, but we can assure that it turned out to be unforgettable for us too.
Lake Orta, special frame for a special day
Polina and Mile's wedding was an alternation of ironic scenes and touching moments, from the very beginning until the end. And it was perfectly intertwined with the location they chose for it: Lake Orta and its tiny hamlets.
It all started with a cute and emotion-filled first look in the alleys of Orta San Giulio. This little town overlooking the lake is romantic per se, so it was the ideal setting for such a unique occasion.
We were almost as tense as Polina and Miles: it was our first time filming something like this and we knew how important it was to capture every single detail. His impatient wait, her walk down the alley with a smile on her face, his incredulous expression with eyes lighting up when he saw her and realized how beautiful she was.
After that we strolled the streets of the picturesque Orta San Giulio, filming the most exhilarating walks and even stopping the pedestrian traffic in order to do that. It was something that all of us enjoyed at the fullest!
But the best was yet to come.
The ceremony was held in the garden of Villa Gippini, part of San Rocco Hotel, which offers a breathtaking view of Lake Orta and San Giulio island. The vows exchange made everyone laugh and cry at the same time, thanks to the depth and wit of the bride and groom.
The speeches of their friends and family members were not less powerful: humorous and sentimental, they gave an accurate picture of the newlyweds and the love that surrounds them. It was a bit of a challenge to record and then go through more than an hour of speeches, but it was totally worth it.
After all the romantic bits, the energy of Polina, Miles and their guests exploded in some of the craziest dances we've ever seen. We couldn't think of a better end to this incredible day.
An end that is only a beginning. The beginning of a new chapter together.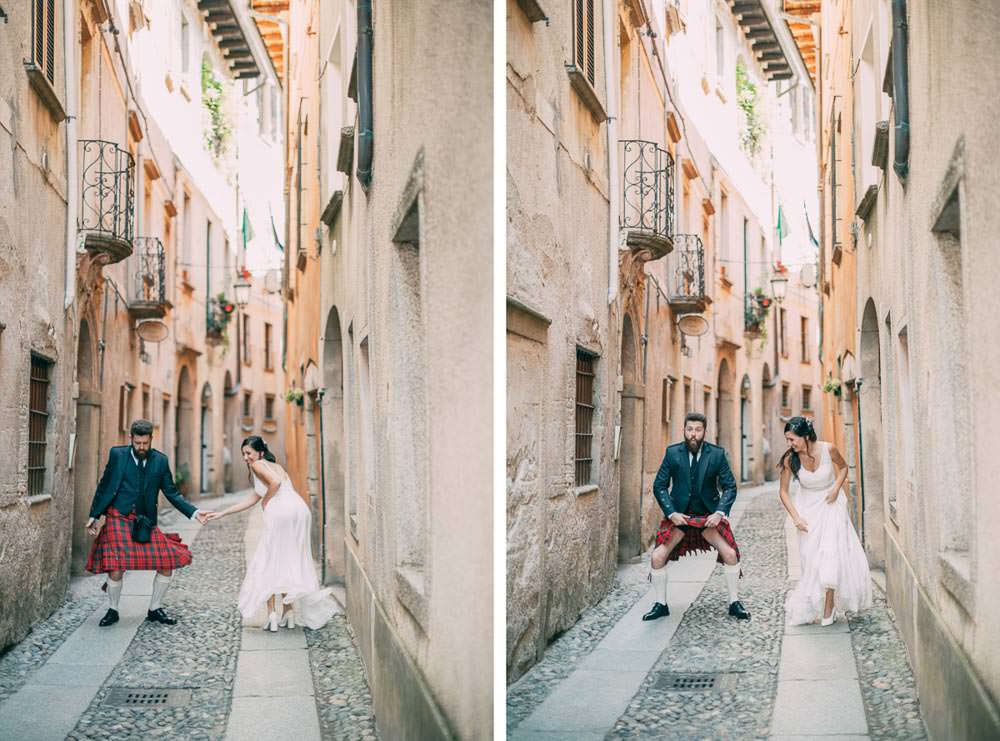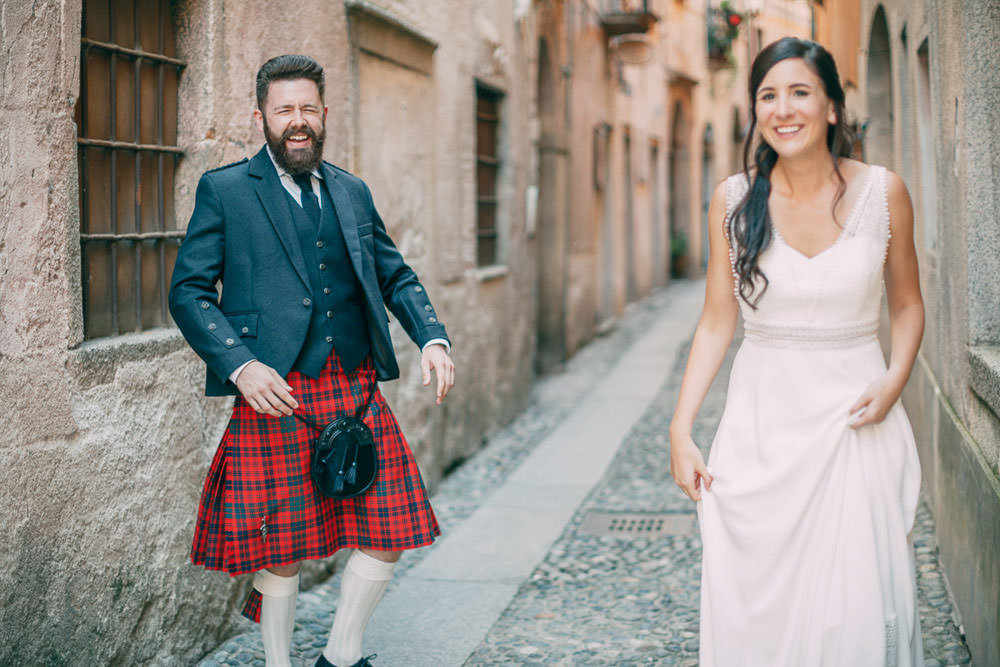 Words on the wings of love
We couldn't expect just average vows from people like Polina and Miles. They were able to surprise us with their words, that we will remember as the most creative love promises one can think of. Filled with sentiment, filled with real-life, filled with their strong personalities.
"I love the you-and-me, the fluency, the plates of cheese, the yet-to-be, the seen, the unseen, all the dreams. I love your generosity, curiosity, and all kinds of –rosity. You make the best version of me. Together we will jump in puddles, kick leaves and give dogs cuddles. Together we can be bubbles. I promise to always be on your side, to confide, to take pride, never hide, and I'll take you for a ride, now and forever. Whatever the future holds, we will be bold, fight the cold, and together hold forever." (Miles)
"When your hair is snow and your memories flitter for the both of us, I hope you remember the summer breeze that moved you down under to chase your truth. And lovingly complained when my hair flicked your face, knowing that your sleep was now to be forever disrupted by my diagonal invasion. I love you for always laughing and smiling, and finding the good in me. Miles, I promise to keep falling in love with you, to keep learning, to keep challenging, and to keep trying. I promise to keep loving you completely, as infinity is in a grain of sand, and eternity is in the palm of your hand." (Polina)
Polina and Miles, may you always have the wind at your back and a bright smile on your face.