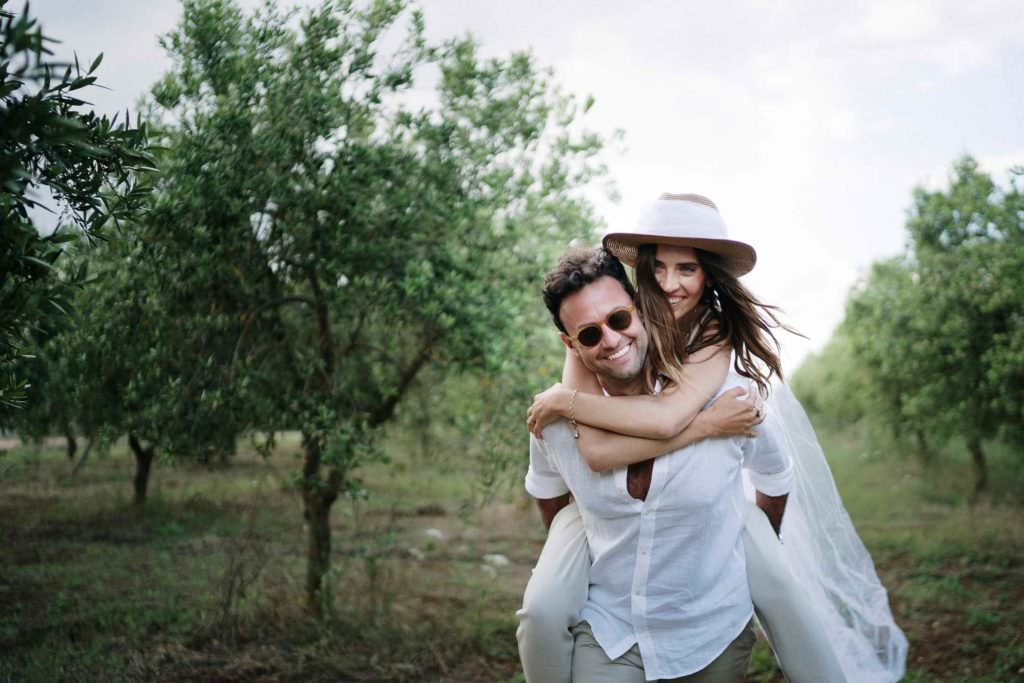 It was a chilly winter day when we first crossed paths with Brittney and Dane. Their online message carried just a few essential pieces of information and a whole lot of enthusiasm. It was genuine, just like them, and as soon as we read it we felt extremely thrilled.
We knew the special day – May 25th – and the unique location: Masseria Potenti, a jewel nestled among the Apulian olive groves. At that point, we couldn't wait to know more and meet them.
We had the chance to deepen the connection with this gorgeous pair during a delightful video call. Usually, one of the reasons why future spouses decide to contact us is that we are a couple too: they feel like we are able to understand and represent their love in the best way. Brittney and Dane found out that we are husband and wife during that call, and this made us feel even more in tune with each other.
That is one of the reasons why Brittney and Dane decided to trust us completely: this made us feel honored and responsible at the same time. We explored their needs and desires and we were ready to take care of every single detail in order to bring their wedding film to life.
Brittney and Dane: a love that was meant to be
We could define them just by what they do – she is an actress, he is a manager – but we always prefer to get to know "our" couples on a deeper level. We believe that's the only way to really capture their essence and tell a love story rather than simply representing an event.
For instance, we know that Brittney and Dane's happy ending was meant to be since the very beginning. They personally told us that, on their first date, he predicted that they would get married… and he was right: there they were, in front of us, ready to spend the rest of their lives together.
We learned more about them when we first met in person at Masseria Potenti the day before the wedding. It was just Brittney, Dane and us. We explored the wonderful location but most of all we got to know them through an intimate video shooting. We captured their knowing looks, meaningful gestures and hugs emphasized by the frame that welcomed them so warmly. We also played and laughed a lot together, witnessing all of their sweet jokes to each other.
The words they pronounced during the exchange of their vows were very significant too. Between the lines we read about an immediate and deep connection that tied them together since the first moment their eyes met, and that brought them to this amazing wedding in Puglia. Still eye to eye, hand in hand.
Masseria Potenti, a magical setting for a modern fairytale
Masseria Potenti, tucked in the countryside of Manduria in Puglia, is what you could call a dream location.
Imagine an ancient farmhouse, completely renovated but respectful of old and fascinating traditions. Visualize a pure white heaven surrounded by red grounds and silver-green olive groves. Close your eyes and smell the sweet perfume of flowers from the orange orchard and fruit from the prickly pear plants.
That was the setting for Brittney and Dane's special day.
A frame that offered anything you could wish for at your wedding. Simple but charming architecture, breathtaking nature, delicious flavors and that lively yet chill mood that made Italy renowned all over the world.
Why did they choose Masseria Potenti? Besides the allure of the venue, of course. They opted for an Italian wedding because part of Dane's family is located here, while Brittney's one was extremely curious and excited to discover the highlights of Puglia. How can you not fall in love with the turquoise sea, friendly lifestyle and cheerful mood of Salento?
Not to mention the hospitality: Masseria Potenti is the dream come true of Chiara and her family. They are the ones who allow the magic to happen, taking care of every single detail of the venue and celebration. From the pastel-colored wildflowers to the glazed ceramics, from the ceremony spot decorated with carpets and wooden benches in boho style to the delightfully rustic dinner set up: nothing was left to chance and the location surely played a big part in the whole event.
Fun fact: combine our desire not to interfere with the solemn moments of the ceremony and the fact that it took place in a little clearing literally surrounded by olive trees. We had a bit of a hard time dealing with the branches and looking for a spot that allowed us to film without being noticed by the attendees. But it was also fun and, most importantly, we reached our goal: that's the unpredictable part of our job!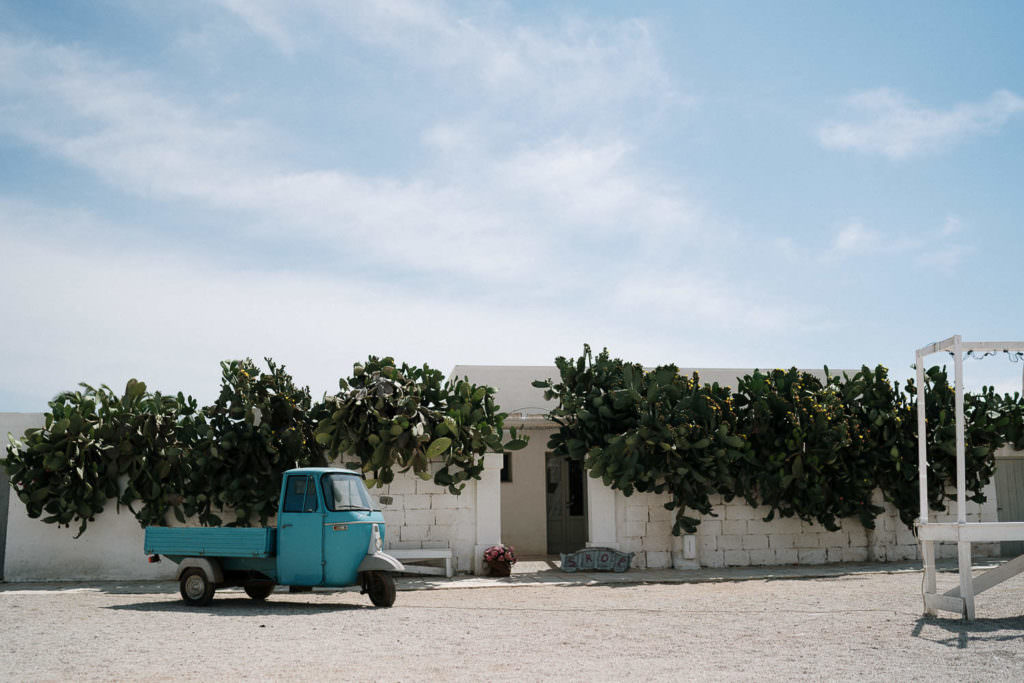 Touching ceremony and lively celebration at Masseria Potenti
The wedding day was a blast, for everyone who had the luck to be there.
It started out with a morning yoga lesson, one of the bride's biggest passions that she wanted to share with her guests on such a meaningful occasion. Breathe in, breathe out, relax and enjoy the present moment: it's the best way to deal with a wedding, isn't it?
But it was in the afternoon that the magic took place. Since the moment Brittney wore her romantic dress covered in impalpable flowers and bright star-shaped earrings, and Dane put on his elegant summer suit. We recorded those instants while Lato Photography immortalized them through their lenses. You could feel everyone's emotions arising: the wait itself was pure emotion.
Then the time came.
The time for touching feelings, when Brittney and Dane exchanged vows looking into each other's eyes. Eyes filled with tears of joy.
The time for smiles, because they are both serious and playful: two lighthearted partners in love. To the point that he said "I promise to find you celery juice, no matter what part of the world we're in: I can ask it in four different languages now"… and we knew it's true as much as they did.
The time for an explosion of energy when the newlyweds entered Masseria Potenti on a vintage Fiat 500 car – a touch of red in a candid cloud under the bluest sky – dancing to the rhythm of Zagor Street Band.
And then there was all the time for a heartfelt and joyful celebration with family and friends. The jingling tambourines joined the live music, dances and speeches made everyone cry and laugh, little lights warmed the atmosphere until the final burst of fireworks.
The wedding day was intense and brilliant, just like Brittney, Dane and their wonderful love story.
Words on the wings of love
The vows are our favorite part of the ceremony, because they say a lot about those who pronounce them. We are going to let Brittney and Dane speak: we are sure they're going to touch your hearts as much as they touched ours.
"Brittney Rose, the day we met I remember with complete accuracy. While I can't say that for every moment in my life, this one will always stay with me. It wasn't something I saw, it was something I felt." (Dane)
"Your first-day prediction came true: we're here. Let's take it every second." (Brittney)
To this delightful couple we can only wish the brightest and happiest future.