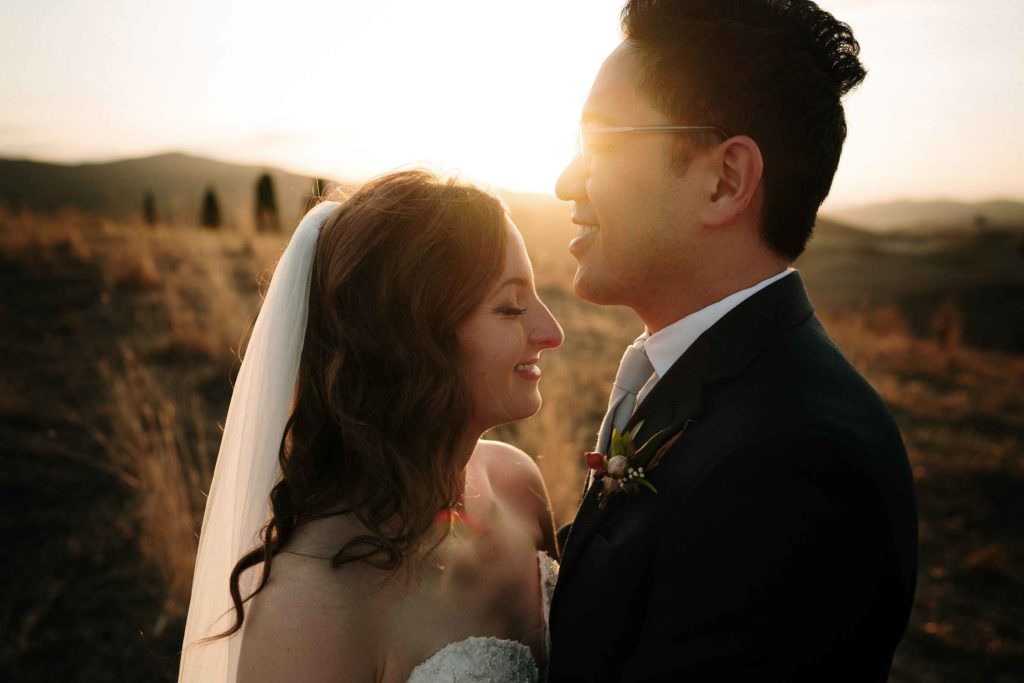 "Marriage is perhaps the greatest and most challenging adventure of human relationships. No ceremony can create a marriage, only you can do that."
This is the opening line pronounced by Roy, good friend and officiator of Joshlyn and Chad's wedding – and their only guest. We could stop here because they perfectly summarize the whole meaning of that day, but we'd rather tell you the unique story of this couple and their emotional elopement.
A meaningful partnership
Since the very first moment we started talking with Joshlyn and Chad, we felt very captivated by their idea. They were planning a traditional wedding in Minnesota – the country they live in – but before that, they wanted to give themselves a much more intimate celebration of their love: an elopement in Italy.
The thought of having a meaningful and exclusive ceremony, where nothing mattered besides their feelings, was a dream for them. A dream that they wanted to realize while doing one of the things they are most fond of: traveling.
As we soon got to understand, their whole relationship has been sprinkled with adventures, so why not turn their wedding into one of those? We adore when couples decide to celebrate such a relevant milestone in an unconventional way, so we couldn't help but immediately get involved in the planning.
Chad and Joshlyn knew they wanted to elope in Italy because her family is of Italian origin and they love the landscapes and food here. They weren't sure of the exact destination, though: that's where we came into the picture and helped them choose.
The rolling hills of Tuscany, among Volterra and San Gimignano, turned out to be the perfect frame for their romantic and authentic elopement. Delicate and wild, genuine and warm, beautiful and powerful, just like them and their love story.
Profound emotions framed by the Tuscan hills
The day before the elopement we met Joshlyn and Chad in the spot they chose for the celebration. That gave us the chance to finally connect in person, which is always a great emotion, and to check if the sunset light was as amazing as we imagined it. This is what "taking care of every detail" means to us.
The light was simply splendid, by the way, so we seized the moment and shot some additional content for the film moving up what was actually scheduled for the following morning.
On the wedding day, we reached Borgo Pignano, where Joshlyn and Chad were staying and where we got our plan started. Yes, we had a plan to creatively bring their story to life in our video, since the whole traditional ceremony and reception were missing.
In this charming estate, nestled among the hills and embraced by untouched nature, we had the soon-to-be bride and groom tell us their story. Not only we got to know them even better, but we also had some more puzzle pieces to make the film accurate and unique.
The emotions that filled the air were tangible: although he tried to disguise his tension, Chad couldn't wait to see Joshlyn in her wedding dress. Their first look was the sweetest ever – and pretty peculiar since we had to stop the whole Borgo Pignano in order to allow them to fully enjoy the moment.
But the real, absolute protagonists of this heartfelt elopement were the words that these two beautiful souls pronounced during their longed-for, personal ceremony. With the rolling Tuscan hills as a background and the golden light of sunset warming the picture, they shared their most intimate thoughts and feelings as if no one was watching.
Throughout the interviews and the vows, they recalled the most important steps of their relationship and relived the sentiments attached to them.
They smiled as they talked about their first encounter at Psycho Susy, on the occasion of Roy's birthday.
They were moved by the memory of their trip to Korea, where Chad was looking for his birth parents just to realize that his family was there with him, in the person of  Joshlyn.
They felt joyful when they recalled the romantic and surreal marriage proposal, organized by him in a way that recreated their first date and surprised her.
They were absolutely present while expressing their gratitude to one another for being such a good team and promising that they are willing to do their best in this new chapter of life as husband and wife.
Words on the wings of love
Joshlyn and Chad are the purest example of how happy you can be if you just stick to your true desires. For them, getting married is not about the wedding: it's about the partnership with your spouse, that you build day by day through dedication and perseverance. Their meaningful words are a reflection of this way of thinking.
"Joshlyn, you have been one of the best influences in my life as a best friend, lover and now my very soon to be wife. As we're now going to be officially partners in crime together, I am beyond belief that this day has finally come. As we've grown together over the years and since the first time I met you thanks to Roy, I immediately knew that you were different. I remember the first time I asked you out on a date: it was ecstatic that we clicked so well. Today I'm honored, thrilled and ready to promise my love to you forever." (Chad)
"Some days I wake up next to you and I wonder how I got so lucky, and I wonder what I've done in past lives to deserve your love and this life with you. I'm the best person I can be and so much of that it's because of our relationship. You push me to be better and remind me of what I'm capable of if I ever have any doubt." (Joshlyn)
Dear Joshlyn and Chad, we can only wish you to stay as you are: true, bright and deeply in love.