Some things are meant to be.
Some matches are made in heaven.
Some adventures are destined to happen.
Like our participation in the Osmosis Workshop 2018 in Iceland, with Maru Films and Kreativ Wedding.
When adventure calls, we answer
We have always loved the work of Maru Films, aka Remi and Pui-Yuk: they are among the videographers we admire the most in the world. The way they tell wedding stories has inspired us from the very beginning and makes us want to get better day after day.
That's why we took part in their Kokoro Workshop in Amsterdam, earlier that year. And that's why we came across the news of the upcoming Osmosis Workshop.
An opportunity to learn from them and from another great professional we look up to: Riccardo Fasoli, an Italian videographer who moved to Germany for love and founded Kreativ Wedding with his wife, Anne.
We have always felt like we have a lot in common with these amazing artists, and we couldn't wait to grab the chance to grow, working side by side with them for a few days.
You can only imagine our reaction when we found out that the workshop was going to be in Iceland, the land of fire and ice.
Marco couldn't stop daydreaming about shooting wedding films in a place that had been fascinating him for such a long time. But he was afraid to share his fantasy with Claudia, because he knew how much she hates the cold weather.
What he didn't know was that, after hearing that adventure was calling in Iceland, she would answer without a second of doubt:
"We are leaving. Get our tickets, now!"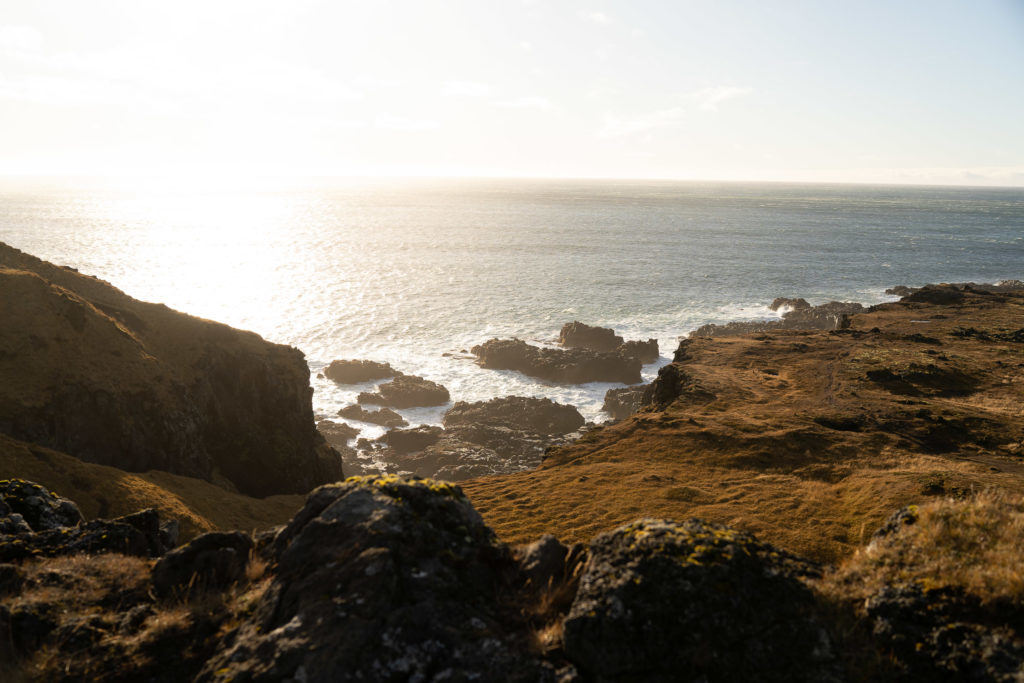 Iceland, a cold land with a warm heart
To be fair, we had been dreaming of Iceland for a very long time: we felt like that cold and wildland was somehow calling us.
We were attracted by the black of its volcanic lands and sandy beaches, the white of its snowy peaks and glaciers, the green of its meadows, the hazelnut brown of its feral horses, the bright red of its lighthouses and the blue of its lagoons.
That's the reason why, when we read about the Osmosis Workshop by Maru Films and Kreativ Wedding in Iceland, it felt like one of those serendipitous moments where everything aligns – leaving you with a broad smile on your face.
So we ended up in Iceland, and we found out that – yes – it is a really magical place. We were still on our bus, on the way to Fosshotel Hellnar, when we saw our first herd of wild horses running ahead of us. As if they were welcoming us, strangers, in their land.
Our home base was in Snæfellsnes, an area that perfectly sums up the atmosphere of the island. The scenery in the peninsula is simply amazing, sprinkled with volcanoes, waterfalls, beaches, tiny villages… and wrapped in a crazy cold, windy weather that characterized our whole adventure.
But that's Iceland, after all, and we knew that below the icy surface there was a warm, beating heart.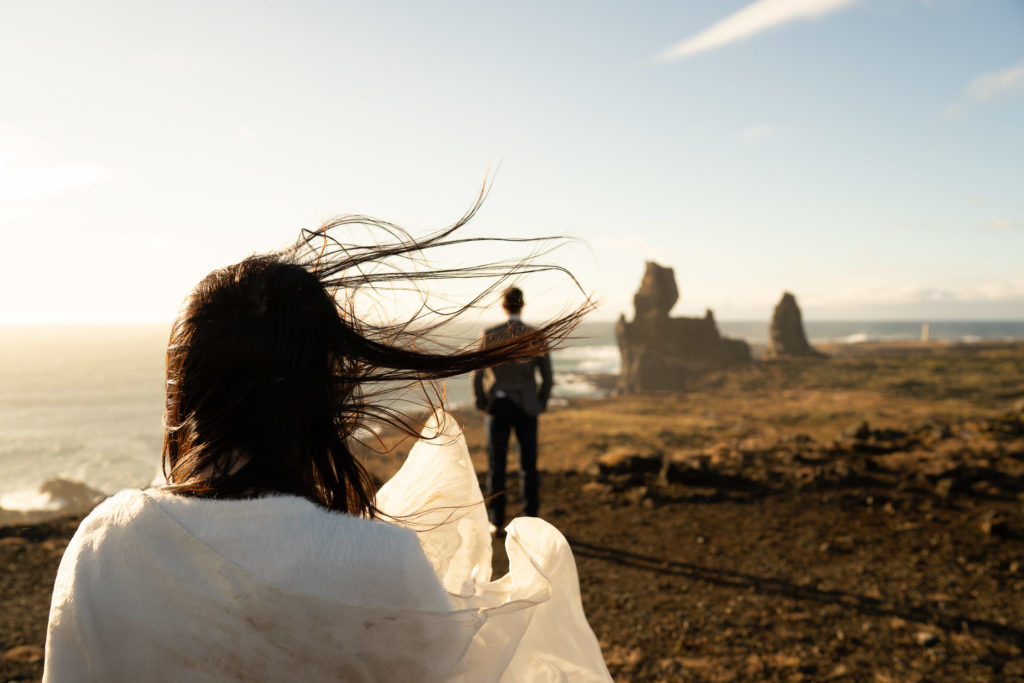 Natalie and Vitali's emotional vow renewal
Five days of workshop, with many other talents from all over the world, floating among theoretical lessons, landscape shootings, drone flights, good fun… and the main event: Natalie and Vitali's vow renewal.
These two beautiful souls were our models, but first of all they were – and are – a lovely couple whose marriage ceremony was photographed by Anne from Kreativ Wedding. They took the chance of this workshop and renewed their promises of love to each other. It was not just modeling, it was a deeply heartfelt event that we had the chance to witness with our cameras.
We braved the freezing weather to reach Djùpalònssandur beach and the Black Church of Budir: the views couldn't be any more Icelandic than that. Imagine a beach covered in black pebbles and scattered with lava rocks, picture the power of the seawater that fiercely hits the shore. Then think of a tiny, black church surrounded by a golden meadow caressed by the wind. The same wind that touches your skin, freezes your hands and ruffles your hair. Do you feel the chills run up your spine?
Well, despite all that – or maybe because of it – that was an extremely powerful event, where Natalie and Vitali exchanged moving words that are still impressed in our memory… and in our video.
"Two years ago, when we first met, I knew that there was an immediate connection. A connection so strong that I was drawn to you in a way I had never experienced before. You captured my heart by being exactly who you are. The sweetest, most loving, compassionate and sensitive person I have ever known." (Vitali)
"Your hands are the only hands I want to hold and your lips the only ones I ever want to kiss. No matter what happens to us in the future, every day we are together is the greatest day of my life." (Natalie)
She also added something else. She said: "If I had done one thing differently, I might have never met you."
Serendipity, after all.